We are retiring the old carrying sets like the Lockkoppel 95 of the German Army. With the NLBS Belt Kit Upgrade you can upgrade your basic NLBS system to a full carrying kit. The waist belt, like the Wing Extensions, is connected to the tether through the connectors. On the inside, the hip belt is equipped with Velcro fleece to be able to velcro optional pads.
The NLBS Belt Kit is delivered with its own Low Profile shoulder straps (it is also possible to wear the Belt Kit with the shoulder straps of the basic system). Due to the low profile design, the shoulder straps can also be worn under the plate carrier. For this purpose, we recommend removing the chest strap from the Belt Kit. Furthermore, you have the possibility to attach Molle bags to the straps or you attach hoses, antennas or similar with shockcord in the existing holes. For better load distribution, side webbing can be looped into the waist belt.
At the front, the Belt Kit connects with the included 50mm webbing and dual buckles.
How to determine the appropriate size:
Please measure your hip circumference and check where the NLBs should start from the center of your body. The specified size refers exclusively to the length of the base system and the waist belt (see sketch). The rest of the length is compensated with the 50mm webbing (total length 50cm). The 50mm webbing can be shortened as needed.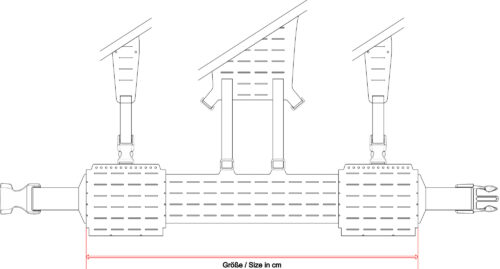 WHAT'S INCLUDED
Waistbelt
Harness
Chest strap
side straps for better load distribution (only size 2 to 4)
50mm strap and dual buckle (length 50cm)